Quick Links:
Hospital and Providers Relief (Español)
Small Business Relief (Español)
Individual and Family Relief (Español)
Internet Access for Low-Income Households
Vaccine Information
Surprise Medical Billing Information
Internal Revenue Service (IRS):
Coronavirus tax relief
Stimulus Check Tracker
IRS stimulus rebates, "What to Know"
Non-Filers: Enter Payment Info Here
Small Business Assistance:
Apply for a low-interest federal disaster loan
Paycheck Protection Program
Where can I find a Paycheck Protection Program lender?
Paycheck Protection Loans FAQ
Faith-Based Organizations FAQ

Treasury Department
Paycheck Protection Program FAQ
CARES Act Information

All New Jersey residents 12 and older are eligible to receive a COVID-19 vaccine!
More than 5.2 million New Jerseyans have already been fully vaccinated across our state. Book your appointment today.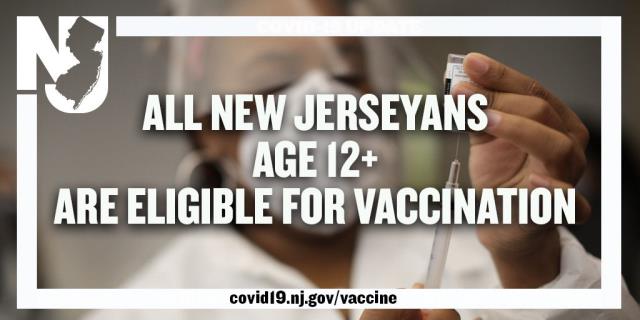 Register to receive a COVID-19 vaccine at covidvaccine.nj.gov or view a full list of vaccination sites here.
Need assistance? Call the state hotline at 855-568-0545 between 8:00am and 8:00pm.
---
Regístrese para recibir una vacuna COVID-19 en covidvaccine.nj.gov o vea una lista completa de los sitios de vacunación aquí.
¿Necesita ayuda? Llame a la línea directa estatal al 855-568-0545 entre las 8:00 am y las 8:00 pm.


---
Across our country, more than 387 million vaccines have been administered and 75% of eligible individuals (ages 12 and over) have received at least one dose. In New Jersey, over 84% of those eligible have received at least one dose. That makes our state the largest in the nation with a vaccination rate that high!
The seven-day average for new cases nationally is now 130,592, down 12% from the previous week, and the seven-day average for deaths is now 2,075, up 35% from the previous week.
The most recent wave of infections is beginning to show signs of slowing, as more and more Americans receive the vaccine. But the deadly Delta variant continues to drive significant hospitalizations and deaths among mostly unvaccinated individuals.
You can do your part to slow the spread by getting vaccinated and joining nearly 5.8 million New Jerseyans who are already fully inoculated! Find the closest vaccination site to you at covid19.nj.gov/pages/finder.
Slowing the Spread
New Jersey's seven-day average for new COVID-19 cases is 2,286, up 14% from the previous week, and the seven-day average for deaths is 20, up 35% from the previous week. Hospitalizations in our state are now up to 1,152 individuals, down 5% from last week.
As of today, New Jersey has administered 11,943,358 vaccines and fully vaccinated 5,795,162 individuals. The overwhelming number of cases, hospitalizations and deaths in New Jersey are among unvaccinated people. Vaccination is the only way to stop the spread of this virus.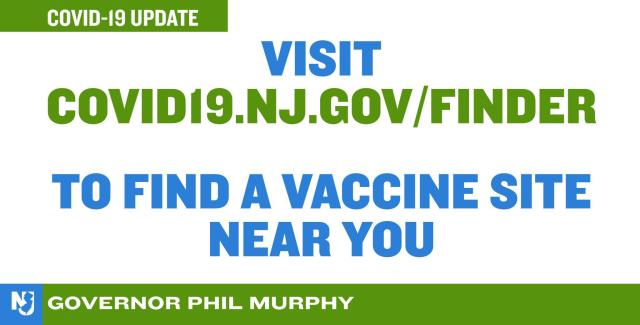 Anyone aged 12 and older who lives, works, or studies in New Jersey is eligible for a vaccine! There are two primary ways to schedule your vaccine:
Learn more about where, how, and when you can get vaccinated at the state's Frequently Asked Questions page. You can reach the state vaccine hotline at 855-568-0545 between 8:00am and 8:00pm daily to speak to a trained operator. You may also contact the state online for assistance here.
On September 22, the FDA authorized the use of Pfizer's COVID-19 Vaccine to be administered as boosters at least six months after completion of the first vaccine series for individuals who are 65 years of age or older and those who are immunocompromised. Booster shots will be administered at any existing vaccine site in New Jersey. New Jersey will soon authorize booster shots across the state, pending final guidance from the FDA and CDC.
Federal Support
Earlier this year, President Joe Biden signed into law the American Rescue Plan, our $1.9 trillion COVID-19 relief package to defeat the virus, energize our economy, and clear our communities to reopen. With hundreds of billions in aid distributed to individuals, small businesses, renters, homeowners, and local governments, we have seen immediate results for the American people.
In order to continue combatting COVID-19 spread, President Joe Biden has announced additional rules regarding vaccination to slow the spread of COVID-19. President Biden signed Executive Orders requiring federal employees and federal contractors to be required to be vaccinated by October 15. The President also announced that the Department of Labor is developing an emergency rule requiring all employers with 100 or more employees to ensure their workforces are fully vaccinated or show a negative test at least once a week.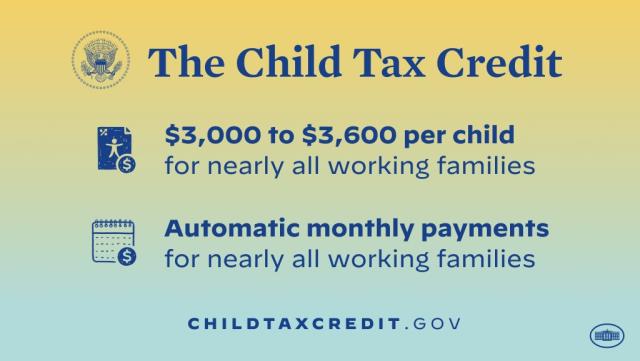 Thanks to the American Rescue Plan's expansion of the 2021 Child Tax Credit (CTC), American families are receiving advance monthly payments of up to $300 per eligible child. Over 981,000 New Jersey families, covering more than 1,606,000 children, have received these advance CTC checks!
According to the U.S. Census Bureau, families receiving these advance checks experienced significantly less economic hardship and food insecurity. Starting last week, families have begun receiving their third round of CTC checks!
The Treasury Department has partnered with Code for America to develop GetCTC, a streamlined website and smartphone application to assist in tracking and receiving your advance Child Tax Credit payments. Visit getctc.org (español) to learn more and make use of this simple tool!
---
Ensuring the safety of all families from COVID-19 and its impact on day-to-day life is my top priority. My office has prepared an informational webpage to ensure workers, families, businesses, and health care providers know their options for relief. For the latest on the coronavirus in New Jersey, check the state's website at covid19.nj.gov.
You can always reach me and my staff in Washington at 202-225-5751 or New Jersey at 973-523-5152 for assistance or further guidance. Remember, my door is always open to you. We are all in this together.
Follow along on our social media for the latest on on the COVID-19 pandemic.