Quick Links:
Hospital and Providers Relief (Español)
Small Business Relief (Español)
Individual and Family Relief (Español)
Internet Access for Low-Income Households
Vaccine Information
Surprise Medical Billing Information
Internal Revenue Service (IRS):
Coronavirus tax relief
Stimulus Check Tracker
IRS stimulus rebates, "What to Know"
Non-Filers: Enter Payment Info Here
Small Business Assistance:
Apply for a low-interest federal disaster loan
Paycheck Protection Program
Where can I find a Paycheck Protection Program lender?
Paycheck Protection Loans FAQ
Faith-Based Organizations FAQ

Treasury Department
Paycheck Protection Program FAQ
CARES Act Information

All New Jersey residents 12 and older are eligible to receive a COVID-19 vaccine!
More than 5.2 million New Jerseyans have already been fully vaccinated across our state. Book your appointment today.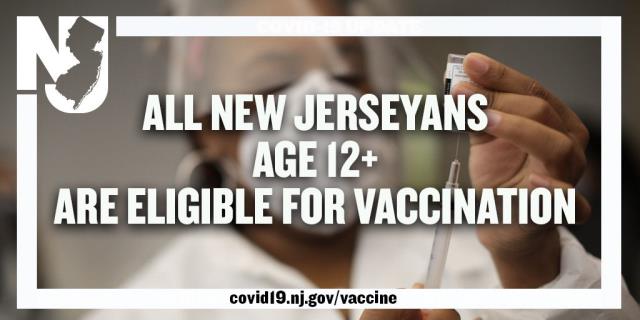 Register to receive a COVID-19 vaccine at covidvaccine.nj.gov or view a full list of vaccination sites here.
Need assistance? Call the state hotline at 855-568-0545 between 8:00am and 8:00pm.
---
Regístrese para recibir una vacuna COVID-19 en covidvaccine.nj.gov o vea una lista completa de los sitios de vacunación aquí.
¿Necesita ayuda? Llame a la línea directa estatal al 855-568-0545 entre las 8:00 am y las 8:00 pm.


---
Across our country, more than 409 million vaccines have been administered and 77.2% of eligible individuals (ages 12 and over) have received at least one shot. In New Jersey, over 86% of those eligible have received at least one dose. Today, 2 in 3 eligible individuals – 189 million Americans – are fully vaccinated.
The seven-day average for new cases nationally is now 79,348, down 22% from the previous week, and the seven-day average for deaths is now 1,557, down 14% from the previous week.
As more and more Americans receive the vaccine, the most recent wave of infections continues to slow. But the deadly Delta variant still continues to drive significant hospitalizations and deaths among mostly unvaccinated individuals.
You can do your part to protect yourself and slow the spread by getting vaccinated and joining nearly 6 million New Jerseyans who are already fully inoculated! Find the closest vaccination site to you here.
Federal Support
Earlier this year, President Joe Biden signed into law the American Rescue Plan, our $1.9 trillion COVID-19 relief package to defeat the virus, energize our economy, and clear our communities to reopen. With hundreds of billions in aid distributed to individuals, small businesses, renters, homeowners, and local governments, we have seen significant results for the American people.
As a senior member of the House Ways and Means Subcommittee on Social Security, I was glad to announce that Social Security benefits for roughly 70 million Americans will increase by 5.9 percent next year. Millions of Americans rely on Social Security to survive. So, this almost six percent increase in benefits is a gamechanger for America's seniors and retirees faced with growing costs. I was thrilled to announce this important news for our seniors and will continue fighting to reinforce and grow Social Security for generations to come.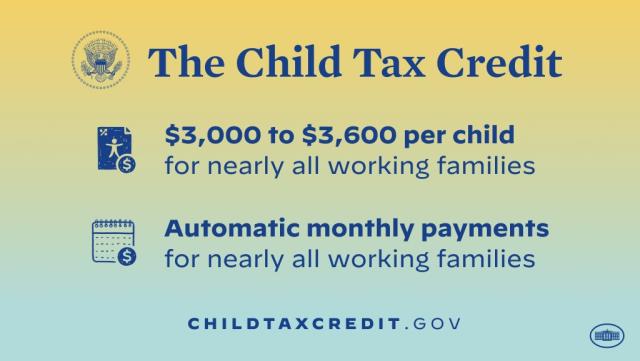 Thanks to the American Rescue Plan's expansion of the 2021 Child Tax Credit (CTC), American families are receiving advance monthly payments of up to $300 per eligible child.
Since July, the Treasury Department and the IRS have delivered over $61 billion in direct CTC payments to families. Last week, the IRS distributed the fourth round of CTC checks to 36 million families covering more than 61 million children.
The Treasury Department has partnered with Code for America to develop GetCTC, a streamlined website and smartphone application to assist in tracking and receiving your advance Child Tax Credit payments. Make use of Code for America's bilingual assistance tool here.
Slowing the Spread
Cases: New Jersey's seven-day average for new COVID-19 cases is 1,303, down 26% from the previous week, and the seven-day average for deaths is 21, level from the previous week. Hospitalizations in our state are currently at 894 individuals, down 17% from the previous week.
Vaccines: As of today, New Jersey has administered 12,587,806 vaccines and fully vaccinated 5,989,956 individuals. The overwhelming number of cases, hospitalizations and deaths in New Jersey are among unvaccinated people. Vaccination is the only way to stop the spread of this virus.
Over the coming weeks, the Food and Drug Administration (FDA) and Centers for Disease Control and Protection (CDC) will consider the potential authorization of the first COVID-19 vaccine for children ages 5-11.
Today, the Biden Administration announced a plan to ensure that, if a vaccine is authorized for children, it is quickly distributed and made conveniently and equitably available to families across the country. These steps will be critical in ensuring that we are staying ahead of the virus by keeping kids and families safe, especially those at highest risk.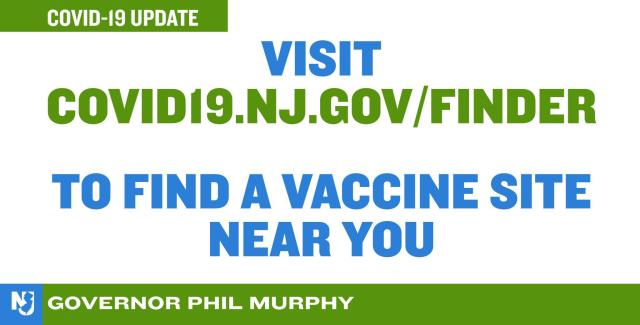 Anyone aged 12 and older who lives, works, or studies in New Jersey is eligible for a vaccine! There are two primary ways to schedule your vaccine:
Learn more about where, how, and when you can get vaccinated at the state's Frequently Asked Questions page. You can reach the state vaccine hotline at 855-568-0545 between 8:00am and 8:00pm daily to speak to a trained operator. You may also contact the state online for assistance here.
Booster Shots and Third Doses: If you are 65 or older, a long-term care resident, an adult with underlying medical conditions, or an adult at increased risk of COVID-19 exposure because of your job, you are eligible for a "booster shot" of the Pfizer COVID-19 vaccine at any vaccine location, at least six months after your second shot.
If you are moderately or severely immunocompromised, you are eligible for a "third dose" of the Pfizer or Moderna COVID-19 vaccine at any vaccine location, at least four weeks after your second shot.
The CDC has announced they are evaluating the available data with urgency to make additional recommendations for people who got the Moderna or Johnson & Johnson vaccines. Learn more here.
Ida Disaster Relief
Six weeks after Hurricane Ida struck our state, the Federal Emergency Management Agency (FEMA) has delivered more than $175.8 million in federal funds to aid in our recovery and the Small Business Administration (SBA) has allocated more than $160 million in financial assistance into the hands of businesses, homeowners, renters, and nonprofit organizations.
Last week, Governor Phil Murphy announced the state would provide $300,000 in additional funding towards a continued partnership with rideshare companies Uber and Lyft to provide access to free and discounted rideshare services to New Jersey residents who lost a vehicle as a result of Ida. New Jersey residents who lost a vehicle and need help accessing essential services can text NJIDARIDE to 898-211 to request a Lyft or Uber ride. Those without access to a smartphone can dial 2-1-1 from any phone line for assistance.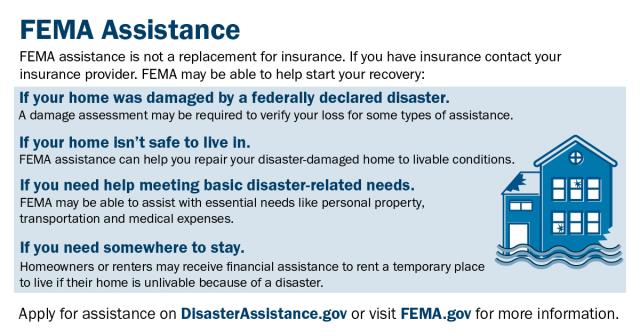 Residents of Passaic, Bergen, and Hudson counties are all eligible to receive FEMA Individual Assistance. This aid can include direct grants to help pay for temporary housing, emergency home repairs, uninsured and underinsured personal property losses, low-cost loans for property losses, and medical, dental, and funeral expenses caused by the disaster, together with other serious disaster related expenses. Learn more and apply for Individual Assistance here.
FEMA has opened a new Disaster Recovery Center for residents who wish to ask questions or seek further information in person. It is located at the Senior Center and City Hall Building at 330 Passaic St., Passaic, NJ 07055 (Hours: 7a-5p, Monday through Saturday).
---
---
Ensuring the safety of all families from COVID-19 and its impact on day-to-day life is my top priority. My office has prepared an informational webpage to ensure workers, families, businesses, and health care providers know their options for relief. For the latest on the coronavirus in New Jersey, check the state's website at covid19.nj.gov.
You can reach me and my staff in Washington at 202-225-5751 or New Jersey at 973-523-5152 for assistance or further guidance. Remember, my door is always open to you. We are all in this together.
Follow along on our social media for the latest on on the COVID-19 pandemic.