Quick Links:
Hospital and Providers Relief (Español)
Small Business Relief (Español)
Individual and Family Relief (Español)
Internet Access for Low-Income Households
Vaccine Information
Surprise Medical Billing Information

Internal Revenue Service (IRS):
Coronavirus tax relief
Stimulus Check Tracker
IRS stimulus rebates, "What to Know"
Non-Filers: Enter Payment Info Here
Small Business Assistance:
Apply for a low-interest federal disaster loan
Paycheck Protection Program
Where can I find a Paycheck Protection Program lender?
Paycheck Protection Loans FAQ
Faith-Based Organizations FAQ

Treasury Department
Paycheck Protection Program FAQ
CARES Act Information


All residents over 16 are now eligible to receive a vaccine!
More than 2.5 million New Jerseyans have already been fully vaccinated across our state. Book your appointment today.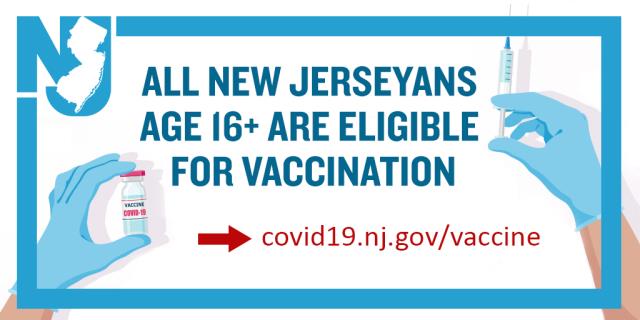 Register to receive a COVID-19 vaccine at covidvaccine.nj.gov or view a full list of vaccination sites and instructions to make an appointment here.
Questions? Call the state hotline at 855-568-0545 between 8:00am and 8:00pm daily.
President Joe Biden recently made his first address to a Joint Session of the United States Congress. His message was clear: America is on the move again. More than 235 million vaccines have been administered. More than 90% of Americans now live within 5 miles of a vaccination site, and every adult in the nation is eligible to be vaccinated right away.
Cases remain high and we cannot let our guard down, but we are making quick progress in our national effort to vanquish the virus and reopen our communities.
You can do your part by getting vaccinated and joining over 4 million New Jerseyans who have received at least one dose! Find the closest vaccination site to you here: covid19.nj.gov/pages/finder.
Slowing the Spread
As of April 29, there are 997,891 confirmed cases and 25,380 deaths in our state, an increase of 14,776 infections and 243 deaths from last week. New Jersey's seven-day average for new cases is now 2,053, down 31% from a week ago and down 42% from a month ago.
As cases in our state continue to drop, Governor Phil Murphy announced the loosening of several COVID-19 restrictions, effective May 10th:
The outdoor gathering limit will be raised to 500 persons from 200 persons.
Outdoor capacity limits will be raised to 50% capacity for venues with 1,000 fixed seats or more, so long as social distancing is maintained. The current limit is 30% capacity for venues with 2,500 fixed seats or more.
Capacity limits for indoor private events, including proms, weddings, funerals, memorial services, and performances will be raised to 50% capacity of the room in which the event is being held, with a maximum of 250 individuals.
Dance floors will be permitted to open at indoor private catered events, including proms with masking and social distancing requirements in place.
Finally, Governor Murphy announced that effective immediately summer youth overnight and day camps are allowed to operate, so long as they follow certain health and safety protocols.
This week, the Centers for Disease Control and Prevention (CDC) announced updated guidance for vaccinated and unvaccinated Americans. Once you have been fully vaccinated, it's generally safe to gather outdoors without a mask and safe to gather indoors with other vaccinated individuals without a mask. All activities are much safer once you have been fully vaccinated. Read more about the CDC's updated guidance here.
As vaccine distribution continues, it is vital we all play our part in slowing the spread of COVID-19 by continuing to practice social distancing, wearing a mask when appropriate, and practicing good hygiene.
American Rescue Plan
Last month, President Joe Biden signed into law the American Rescue Plan, a $1.9 trillion COVID-19 relief package to defeat the virus, energize our economy, and clear our communities to reopen. We are seeing quick results for workers and families. Over 160 million stimulus checks have been distributed. Rental, mortgage, and nutritional assistance is being delivered with haste.
Our economy continues to roar back. Over 1.3 million jobs have been created in the past 100 days, and unemployment claims are at their lowest level since the start of the pandemic. Our economy grew at an annualized pace of 6.4% in the past three months, the fastest growth during any quarter in nearly four decades. America is moving again.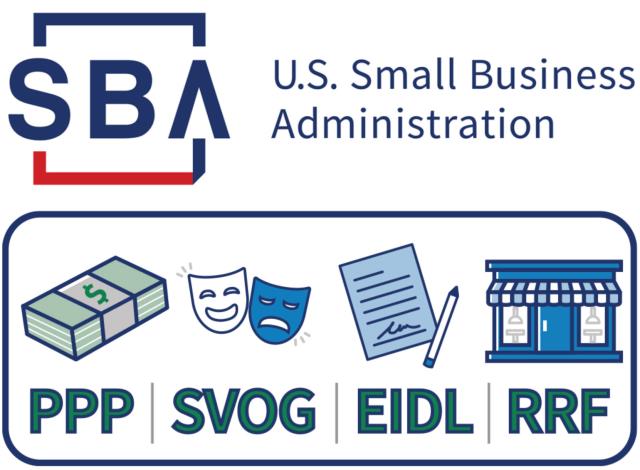 Learn more about COVID-19 relief for small businesses, including the Paycheck Protection Program (PPP), Shuttered Venue Operators Grants (SVOG), Economic Injury Disaster Loans (EIDL), and the Restaurant Revitalization Fund (RRF).
I'm glad to announce two new programs to help small businesses hit hardest by the pandemic. The American Rescue Plan established a $28.6 billion Restaurant Revitalization Fund at the Small Business Administration (SBA) to provide provide funding to help restaurants, bars, and other eligible businesses keep their doors open. Applications for relief will open on May 3. Learn more here.
The American Rescue Plan also provided $16 billion for Shuttered Venue Operators Grants at the SBA to provide aid to live venues, performing arts organizations, museum operators, and other eligible businesses who have been forced to close their doors over the past year. Applications are open now. Learn more here.
Vaccine Distribution
As of April 29, New Jersey has administered 6,834,212 vaccines, fully vaccinating 2,915,754 individuals, which represents 42% of the state's adult population. Our state is now well over halfway toward Governor Murphy's goal of fully vaccinating 70% of all adults by June!
All individuals aged 16 and older who live, work, or study in New Jersey are eligible for a vaccine. Vaccines are available to all New Jerseyans, regardless of immigration or insurance status.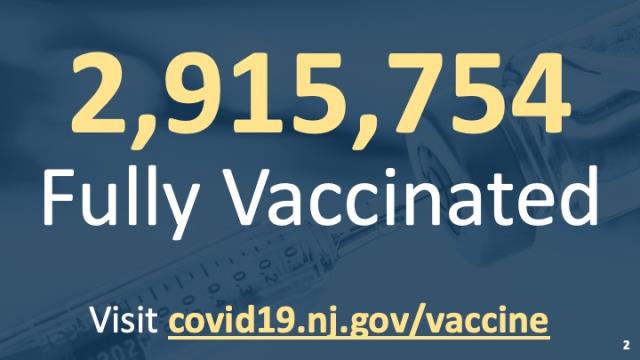 There are two primary ways to schedule your vaccine:
Learn more about where, how, and when you can get vaccinated at the state's Frequently Asked Questions page. You can reach the state vaccine hotline at 855-568-0545 between 8:00am and 8:00pm daily to speak to a trained operator. You may also contact the state online for assistance here.
---
We are facing a global pandemic, and ensuring the safety of all families from COVID-19 and its impact on day-to-day life is my top priority. My office has prepared an informational webpage to ensure workers, families, businesses, and health care providers know their options for relief. For the latest on the coronavirus in New Jersey, check the state's website at covid19.nj.gov.
Finally, in the face of a worldwide pandemic and deteriorating economic conditions, more and more Americans are experiencing mental health issues. The U.S. Census Bureau found that three times as many American adults are facing depression or anxiety amid the pandemic. If you feel overwhelmed or in crisis, please know there are resources and people available to help. New Jersey has set up a free mental health support line. Just call 866.202.HELP or text NJHELP to 51682 for support from 8am to 8pm.
You can always reach me and my staff in Washington at 202-225-5751 or New Jersey at 973-523-5152 for assistance or further guidance. Remember, my door is always open to you. We are all in this together.
Follow along on our social media for the latest on on the COVID-19 pandemic.