Quick Links:
Hospital and Providers Relief (Español)
Small Business Relief (Español)
Individual and Family Relief (Español)
Internet Access for Low-Income Households
Vaccine Information
Surprise Medical Billing Information
Internal Revenue Service (IRS):
Coronavirus tax relief
Stimulus Check Tracker
IRS stimulus rebates, "What to Know"
Non-Filers: Enter Payment Info Here
Small Business Assistance:
Apply for a low-interest federal disaster loan
Paycheck Protection Program
Where can I find a Paycheck Protection Program lender?
Paycheck Protection Loans FAQ
Faith-Based Organizations FAQ

Treasury Department
Paycheck Protection Program FAQ
CARES Act Information

Need a COVID-19 test? Free, public testing sites are open across North Jersey. Find a local testing site here.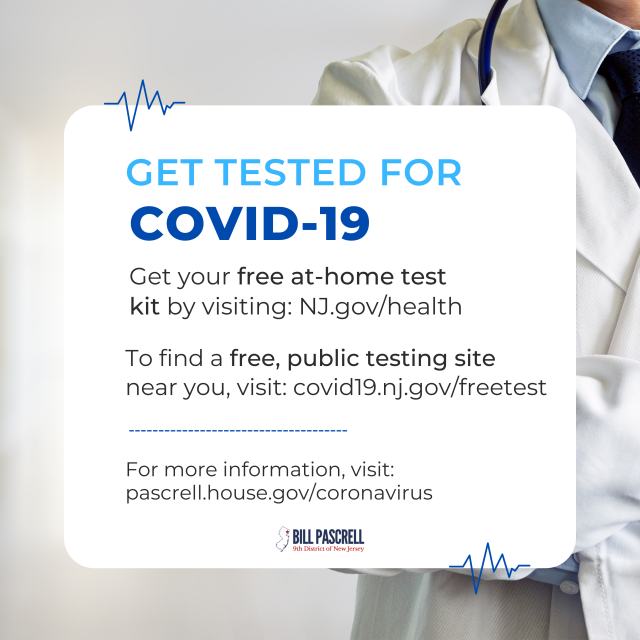 Find testing availability at local pharmacies or physicians' offices here.
You can order a free, at-home test kit here.
Starting January 15th, private insurers will be required to cover the cost of at-home tests. Learn more here.
Protect yourself against the Omicron variant with a booster!
Residents ages 12 and older are eligible to receive a booster shot to keep your immune response against COVID-19 strong.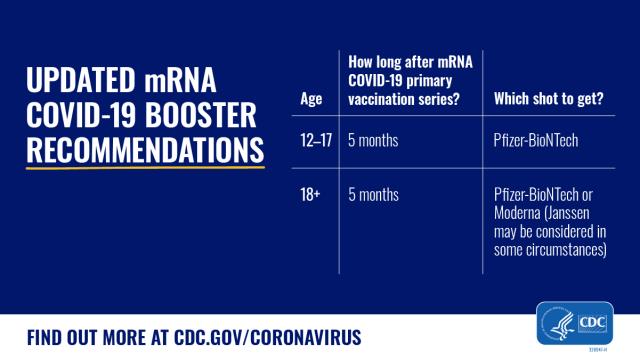 Find the vaccine site closest to you at: covid19.nj.gov/pages/finder
Need assistance? Call the state hotline at 855-568-0545 between 8:00am and 8:00pm.
At this time, only the Pfizer booster vaccine is authorized for those ages 12 through 17.
Learn more about booster eligibility here.
---
Encuentre el sitio de vacuna más cercano a usted en: covid19.nj.gov/pages/finder
¿Necesita ayuda? Llame a la línea directa estatal al 855-568-0545 entre las 8:00 am y las 8:00 pm.
En este momento, solo la vacuna de refuerzo de Pfizer está autorizada para personas de 12 a 17 años.
Obtenga más información sobre la elegibilidad de refuerzo aquí.
---
Our country remains in the midst of an unprecedented rise in cases of COVID-19 driven by the extremely contagious Omicron variant.
This week we marked another grim milestone as the number of Americans hospitalized with the virus surpassed even the heights reached during last winter's peak.
With our hospitals and health care workers being pushed to the brink, we must take the threat of this variant seriously.
Our state continues to face a particularly severe surge and hospitalizations have now risen to their highest level since April 2020.
But we have come a long way since then in our fight against the virus, and we are far from defenseless against this new variant.
Available vaccines are safe and highly effective at protecting people from serious illness and death. Booster shots provide optimal protection, especially against Omicron.
Residents ages 12 and over who have been fully inoculated are eligible for a booster dose at any vaccine location across the state.
With more vaccines and boosters in arms, emerging treatments, expanded free at-home testing, and the full mobilization of the federal government to support our health care system, we will get through this together.
---
Omicron Variant
The Centers for Disease Control (CDC) continues to collaborate with global public health and industry partners to learn more about the rapidly spreading Omicron variant. Here what we know today:
Omicron is highly transmissible: The Omicron variant now accounts for roughly 98.3% of all COVID-19 cases in the United States, and over the course of a single month has almost entirely displaced the once-dominant Delta variant.
Anyone can get and spread the virus: Anyone with Omicron can spread the virus to others, even if they are vaccinated or don't have symptoms. Those who are vaccinated are experiencing a higher rate of breakthrough infections than with previous variants, but those who are vaccinated and boosted tend to experience milder illness.
We must take this variant seriously: While early data indicates that Omicron may be less likely than the Delta variant to lead to severe illness and hospitalization, this variant still poses serious health risks. This is especially true for individuals who are unvaccinated, of advanced age, and those with underlying medical conditions.
Slowing the spread protects critical infrastructure: The rapidly rising number of cases poses risks to health care services who are facing excess demand for treatment and increased illness among doctors, nurses, and emergency medical personnel. This severe strain on our health care system could leave many hospitals ill equipped to handle additional coronavirus patients and deal with other personal health emergencies.
Thankfully, we have several tools at our disposal to protect ourselves and others from infection and illness.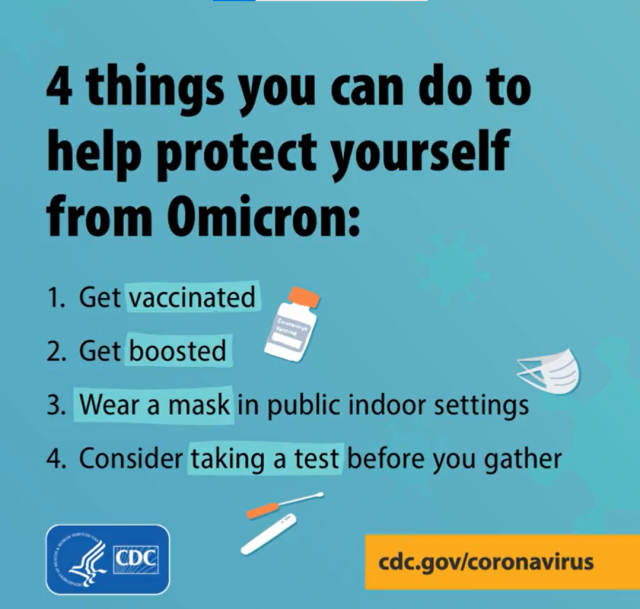 The most important thing you can do is get vaccinated and get boosted! The latest research emphasizes that booster shots provide the strongest protection against Omicron.
Further, the CDC continues to recommend wearing a mask in public indoor settings, regardless of vaccination status.
Finally, you should consider taking a test before you gather with others. Self-tests can be used at home or anywhere, are easy to use, and produce rapid results.
New Jersey has established a partnership with Vault Medical Services to offer free, at-home testing to all residents.
Until we know more about the risk of Omicron, it is important that we use all tools available to protect ourselves, our neighbors, and our health care system.
---
Case Trends
Our nation continues to face an unprecedented increase in cases and hospitalizations. Deaths are also growing, but at a slower rate for the moment. Here are the up-to-date numbers in the United States:
Cases: The seven-day average for new daily cases nationally is now 761,122, an increase of 185% over the last two weeks.
Tests: The seven-day average for daily reported tests stands at 1,992,421, an increase of 42% over the last two weeks.
Hospitalizations: The seven-day average for hospitalizations stands at 140,641, an increase of 84% over the last two weeks.
Deaths: The seven-day average for daily deaths is 1,736, an increase of 40% over the last two weeks.
Our state is facing one of the worst outbreaks in the country, but cases are showing very early signs of slowing. Today marks the first in over two weeks that fewer than 20,000 cases were reported. Here are the up-to-date numbers in New Jersey:
Cases: The seven-day average for new daily cases in our state is 31,098, an increase of 102% over the last two weeks.
Tests: The seven-day average for daily tests stands at 84,319, an increase of 39% over the last two weeks.
Hospitalizations: The seven-day average for hospitalizations stands at 6,118, an increase of 118% over the last two weeks.
Deaths: The seven-day average for daily deaths is 69, an increase of 212% over the last two weeks.
---
Slowing the Spread
Federal Actions
President Joe Biden has mobilized the full force of the federal government to protect Americans and help communities and hospitals battle COVID-19 by expanding robust access to free testing, increasing vaccine and booster capacity, providing military support to hospitals in need, and quickly distributing newly approved antiviral treatments.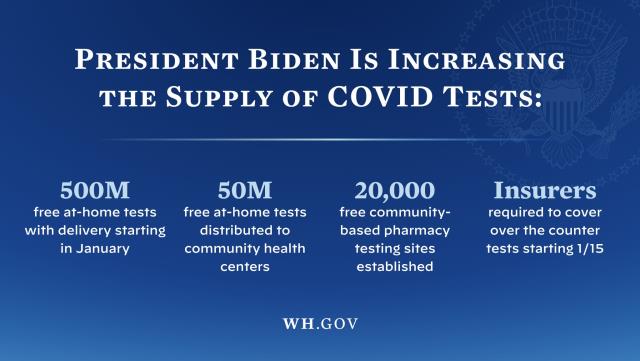 On Monday, the Biden Administration announced it will require insurance companies and group health plans to cover the cost of over-the-counter, at-home COVID-19 tests for free starting January 15th.
The new coverage requirement means that anyone with private health coverage can go online or to store, buy a test, and get it paid for upfront by their health plan or get reimbursed for the cost.
Today, the Biden Administration announced it would build on its commitment to keeping all schools safely open for full-time in-person learning by taking new actions to increase access to COVID-19 testing in schools.
Specifically, the Administration will distribute 5 million rapid tests and 5 million lab-based PCR tests each month to help K-12 schools stay open.
Additionally, the Federal Emergency Management Agency (FEMA) will support the safe operation of schools by providing full cost reimbursement to state and local governments for screening and temperature scanning, testing, personal protective equipment, and cleaning and disinfection costs.
FEMA also continues to work to stand up federal surge testing sites in the hardest-hit and highest-risk communities.
State Actions
Yesterday, Governor Phil Murphy announced the immediate reinstatement of a Public Health Emergency to ensure that the State is able to respond to the continued threat of COVID-19 and the rapidly spreading Omicron variant.
This will allow the state to continue efficient vaccine distribution, vaccination or testing requirements in certain settings, and staffing and resource allocation to hospitals or other facilities in need. It will also allow for existing orders requiring masking in school and daycare settings to remain in effect.
Last week, the Governor announced that 150 members of the New Jersey National Guard will deploy to long-term care facilities throughout the state to assist with COVID-19 response efforts. Guard members will be able to assist regular staff with a variety of tasks, including administrative and logistical support.
Vaccines and Boosters
All residents ages 5 and older are eligible for a vaccine and all residents ages 12 and older are eligible for a booster! Getting vaccinated and boosted is necessary to protect yourself from the rapidly spreading Omicron variant.
Learn more about where, how, and when you can get vaccinated here and learn more about booster vaccines here.
You can also reach the state vaccine hotline at 855-568-0545 between 8:00am and 8:00pm daily to speak to a trained operator or contact the state online for assistance here.
Vaccines and boosters are safe, effective, and free. Have questions or concerns? The CDC has prepared a helpful informational webpage backed by the latest research and data. Accurate vaccine information is critical and can help stop common myths and rumors.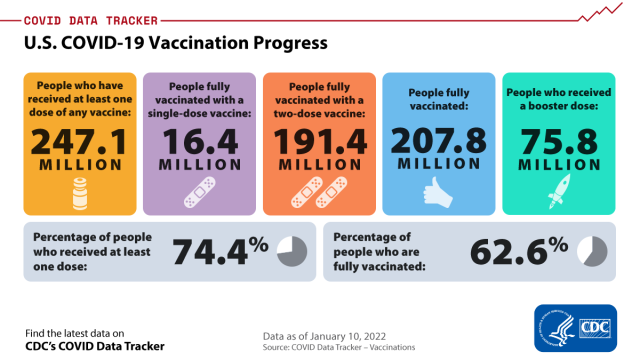 Over 207.8 million Americans (62.2%) and more than 6.48 million New Jerseyans (71%) are fully vaccinated against the virus.
Over 75.8 million Americans (36.7% of those eligible) and more than 2.44 million New Jerseyans (49% of those eligible) have received a booster vaccine.
As Governor Phil Murphy reiterated this week: the overwhelming number of hospitalizations and deaths in our state are occurring among unvaccinated residents.
Unvaccinated individuals currently account for 92% of hospitalizations and are testing positive more than twice as often as vaccinated individuals. Get vaccinated and get boosted!
---
American Rescue Plan
Last year, President Joe Biden signed into law the American Rescue Plan, our $1.9 trillion COVID-19 relief package to energize our economy and deliver direct relief to working families.
With hundreds of billions in aid distributed to individuals, small businesses, renters, homeowners, and local governments, we continue to see significant results for the American people and our economy.
Just this week, the Treasury Department announced it would distribute more than $1.1 billion in Emergency Rental Assistance funds to allow states to continue providing much needed assistance to renters and small landlords. New Jersey is set to receive an additional $42 million through this allocation.
This program, created under the American Rescue Plan, has already distributed over $25 billion in rental assistance. Thanks to these ongoing efforts to prevent evictions and get help to those who need it, eviction filings remain well below pre-pandemic levels.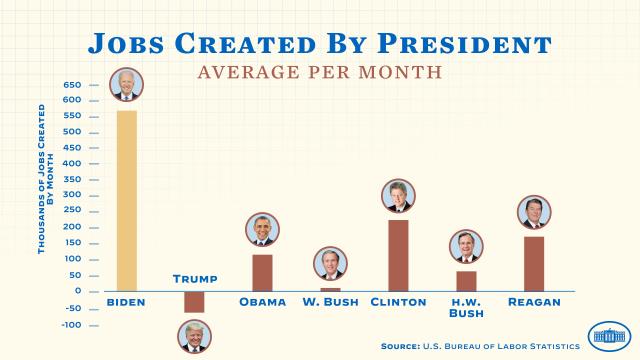 Our economic recovery has also exceeded expectations across the board.
The unemployment rate continues to fall and now stands at just 3.9%, the lowest level since the start of the pandemic.
Last year, the economy created over 6.4 million jobs as we experienced the highest ever average monthly job growth of any prior Administration.
---
Ensuring the safety of all families from COVID-19 is my top priority. My office has prepared an informational webpage to ensure workers, families, businesses, and health care providers know their options for relief. For the latest on the coronavirus in New Jersey, check the state's website at covid19.nj.gov.
You can reach me and my staff in Washington at 202-225-5751 or New Jersey at 973-523-5152 for assistance or further guidance. Remember, my door is always open to you. We are all in this together.
Please stay safe and vigilant as we continue to gather for the holidays. I wish you and your family a happy and healthy New Year. May this year bring joy, togetherness, and resilience.
Follow along on our social media for the latest on on the COVID-19 pandemic.